Bio-resources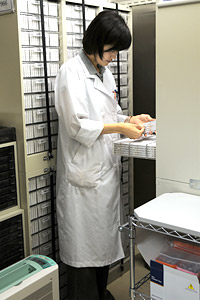 In FY2002, the Ministry of Education, Culture, Sports, Science and Technology (MEXT) implemented the National BioResource Project (NBRP) to construct the framework for systematic collection, preservation, and distribution of bioresources, with a focus on those that required strategic development by the national government. After the reviewing the NBRP every five years, in FY2012, the third phase has stared.
Chiba University's Medical Mycology Research Center (MMRC) is the "NBRP Center" for pathogenic microorganism, and this project is carried out by MMRC (pathogenic fungi/actinomycetes), Osaka University's Research Institute for Microbial Diseases (pathogenic bacteria), Gifu University's Graduate School of Medicine (pathogenic bacteria), and Nagasaki University's Institute of Tropical Medicine (pathogenic protozoa). Working together, they cooperate in various efforts to support education and research pertaining to infectious diseases and pathogens. Specifically, they are developing a system for collection, preservation, and distribution of pathogenic microorganisms, and they supply reliable strains of pathogenic microorganisms that are backed by high-level information.
The project aims to establish a reliable and sufficient at the collection to deal with infectious diseases carried by any pathogenic microorganisms.
| | 2017 | 2018 | 2019 | 2020 | 2021 | Total |
| --- | --- | --- | --- | --- | --- | --- |
| Fungi | 517 | 479 | 516 | 788 | 455 | 24,852 |
| Actinomycetes | 109 | 72 | 64 | 98 | 21 | 2,993 |
| Total | 626 | 551 | 580 | 886 | 476 | 27,846 |
2017
2018
2019
2020
2021
Fungi
118
(1,318)
80
(914)
116
(1,281)
43
(198)
62
(1,034)
Actinomycetes
12
(113)
15
(66)
10
(38)
5
(6)
1
(10)
Total
130
(1,431)
95
(980)
126
(1,319)
48
(204)
63
(1,044)